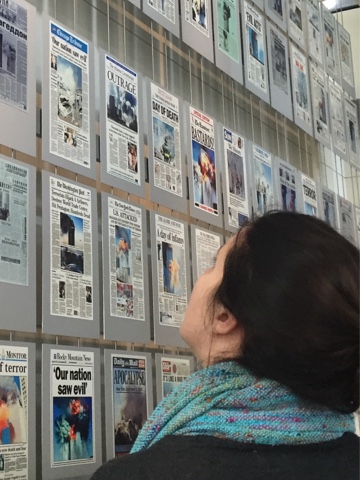 02 Apr

Magical History Tour Day Four: Washington, DC
We arrived at our hotel in Alexandria at 2pm, quickly turned around and headed to the Newseum. Whoa! What an incredible place! The 90 minutes we had wasn't nearly enough, but we got to learn a lot in the short time!
Of course Gavin couldn't help giving us a collective heart attack from the Newseum terrace!
From there, we headed to Arlington National Cemetery, where Hannah got to visit her Pop Pop's grave. It was especially meaningful to accompany her there. The rest of the group walked through the cemetery to see the Changing of the Guard, and Hannah and Ali met them there. We walked out past the Kennedy memorial and then spent some time before we got back on the bus reflecting on our experience there.
When asked to share one word that describes their emotions after experiencing Arlington, some of the words were: sad, depressing, inspiring, humbling, peaceful, powerful, patriotic, intense, moving and more. Each student who wanted to shared a little about their feelings and the discussion was incredibly meaningful. Lucas expressed that he had many emotions and also was confused about which were appropriate. Blair expressed that although she struggles to pay attention generally, she couldn't take her attention off of the guards as they were performing their dutiful change. Carter expressed that today taught us amongst other things how to behave in a cemetery. Gavin expressed how the silence was comforting, empowering and calming.
It was a beautiful opportunity to reflect together as a group and to honor the sacrifice and bravery of the many who are buried there.
The cherry blossoms are out, the weather is cooperating and we have a big day tomorrow at the American History and Air and Space Museums, followed by a sunset bike tour of the monuments.
We're exhausted but invigorated, too. This group has bonded in new ways, is supporting one another beautifully and laughing together. And of course, there's the fierce UNO tournament! The stuff that memories are made of…