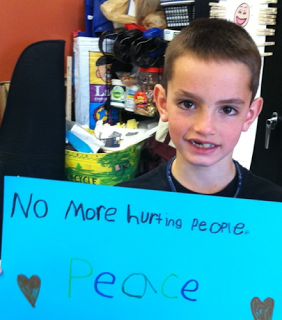 17 Apr

From Birmingham to Boston

As an educator, it's my mission to inspire my students to always do the right thing, equally for themselves and others. As the proverb challenges us:  

If I am not for myself, who will be for me?

If I am only for myself, who am I?

– Rabbi Hillel

As our bus was close to delivering us to our South Florida finish line, the internet alerted me:

The finish line at the Boston Marathon had been bombed.

Our group had just traveled back in time more than sixty years and covered the mileage equivalent to more than sixty marathons.  We were only three hours from home, and yet it was as if we were suddenly right back where our journey started all those years ago.  Humanity had just been scarred by hate.  Again.

Nothing has changed.

Everything has changed.

I consider Boston "my city" the same way every other New Englander does. You really can't help it; the energy envelops you and the traditions welcome you.  It is the city that freed me – from my own insecurities, past obstacles and creative boundaries. Throughout college and my twenties, it was the city that supported and inspired me while I figured out my dreams and learned the skills I needed to make them happen.

This is similar to how my students described the way space of mind has freed and inspired them, making them feel SAFE while discovering how to love and create themselves. 
(photo courtesy of The Boston Globe)

From the bus after the news broke, we started to pull up images from the Boston bombing.  They were not much different from those we had just viewed in Montgomery, Selma and Birmingham. They were awful images of innocent people, bloodied and terrorized by someone else's ignorance and fear.  There were also the familiar images of heroic citizens who cast aside concern for personal safety, jumped into action and did the right thing.  Then today came the names, images and stories of the newly and forever memorialized victims, whose lives are now legacies and mile markers of the big problems that still need solving.  
On our trip, we visited the 16th Street Baptist Church where four young girls were killed by a bomb in a random act of hateful violence.  Their fatal mistake – like those injured and killed in Boston and in the many hate crimes preceding – was miscalculating the intersection between the right time and right place.  
(images courtesy of 16th Street Baptist Church)

The last night of the trip, I asked the students to examine their own roles and responsibilities for creating a present and a future that promote tolerance and peace. We debated the importance of showing compassion, using positivity and invoking patience when confronted by our fears and frustrations towards others.   We identified the characteristics of bullies and their behaviors as reflections of an inner struggle to free themselves from their own insecurities and obstacles. Everyone agreed:  

Bullies are unable to see that the only way to change themselves is to accept others.  
As most of us have in the last 36 hours, I've done my share of web-surfing and read many reflections on the Boston bombing.  Dave Zirin's post, The Boston Marathon: All My Tears, All My Love, links my Alabama and Boston experiences, retelling the story of Kathrine Switzer, the female runner who, in 1967, disguised herself as a man and dared to run the all male Boston Marathon.  She was the running community's answer to Rosa Parks, literally shifting the power paradigm by inspiring the men running that day to ensure that women have the right to run alongside them in an equal race.  
"If you are losing faith in human nature,go out and watch a marathon."
(April 19, 1967, AP photo)
Simply, we're all runners, cheerleaders or responders, committed to facing down history, learning from adversity and trusting that peaceful persistence will eventually overcome hateful intolerance.
The Human Race is an emotional and moral marathon we each run every day.  It's paved with obstacles that sometimes interrupt our well-executed plans and purest intentions, forcing us to keep making a difficult, but obvious, choice:
Either stumble over ignorance and give up, or get up and continue on – even in the face of traumatic adversity – to pursue a world without hate.  
See you at the finish line.
To learn more about the Space of Mind No Place For Hate
®
 project, or to help fund our student-produced documentary and awareness campaign, visit