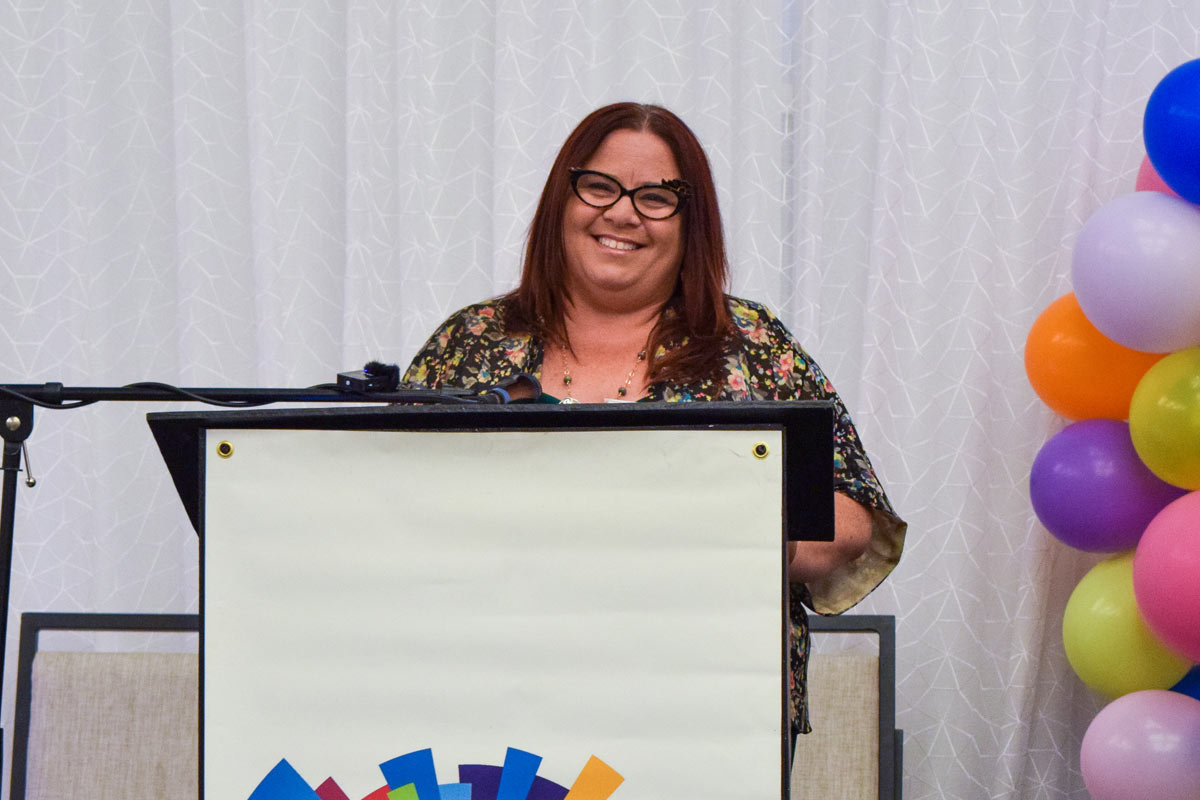 05 Jun

Ali's 2023 Banquet Speech

It's my joy to welcome you all here tonight. 

I always save writing this little speech for the morning of, so when I woke up this morning to two very special Space of Mind alumni shout outs on social media, I knew exactly what I wanted to talk about.

Working alongside such a dedicated and compassionate team, we spend our days in the not-so-secret secret: Education is NOT about academics. It's, in fact, the things that are learned and taught outside of the grade level standards that truly determine the successful person each of our students will become. 

Zach Hirsch, Class of 2020, started his sports podcast as a freshman at SOM and is now a published and recognized Gen Z thought leader, a leading voice in the creator economy, an entrepreneur, Web3 evangelist, podcast host, analyst and influencer. He had the freedom at SOM to turn his passion for sports into his purpose and profession, and he is now the most accurate sports handicapper in the history of college football. Zach was the youngest Division 1 College Football Coaching intern when he joined the coaching staff at Florida Atlantic University at only sixteen years old. He is the Co-Host of the Kiss and The Myst Worldstar Hiphop Sports Podcast with his partner, the legendary rapper Jadakiss, and he interviews sports and hip hop celebrities with the same grace and groundedness he had when a student with us. Zach has been featured as an on air combat sports analyst commentator and host for multiple boxing and UFC networks and is the co-host of the Fight Guys Podcast with former UFC Light Heavyweight Champion, Rashad Evans. He then went on to Co-Found Mozverse, Inc a Web3 Development Company and serves as the company's Chief Marketing Officer. They were named the top Web3 company last year by Inc. Magazine, and Forbes has published articles about and by Zach on multiple occasions.

This morning, Zach posted on our facebook page, "I highly recommend Space of Mind to anyone looking for a personalized educational experience. I definitely owed my start and any chance I had at living my best life personally and professionally to my years at SOM."

A little later this morning when checking facebook again, I spotted a feature article in The Coastal Star about Cat Kelly, Class of 2013 and our very first Gap Year student the year after that. The article highlights Cat's upcoming 83-mile paddle board crossing from Bimini to Lake Worth later this month, and if you know Cat, you know she's the strongest force of a human – and her spirit is of – and with – the ocean. If you knew Cat when I first met her in 2011, you'd maybe not have seen the purpose that she was a long way from seeing deep down within her. I did.

An educator is wired to have that discerning sensory system – a human detector of human potential. That's our job. Cat walked into SOM totally disinterested in school, but she was down to try SOM. Cat is one of the smartest students we've ever taught. She just didn't know it yet.

It took Zach four years to grow from a shy little kid with an affinity for sports statistics into a young man making more than most educators do – even before he graduated from high school. He's now a bonafide celebrity, but that's not the mark of his success. It's the strength of his character and the belief in himself that is so strong that he doesn't lose himself in the blender of the bigtime. 

It took Cat a similar amount of time to find her footing and create the lane from which she will deliver her impact on the world. She is now running her own mental health consulting business and has helped countless others on their journeys to their own purpose as they build a life of recovery. 

Education isn't measured by time, though, and it's not measured by test scores or classroom behavior charts. We've been tricked to believe that grade level standards matter or that class rankings determine a student's trajectory in any way. Success is measured by the commitment we make to the experiences, the people, the places and the passions we seek out, suffer through and slay every day. Success is rooted in happiness, and the currency it trades on is CONFIDENCE. 

A Space of Mind student is given the freedom to find, be and develop one's self as they are into who they want to become. As a team of educators, our job is to coach each one to achieve their biggest life, which is way more important – and more difficult – than achieving any fleeting grade on a test or in a course. Achieving this mission to live a fulfilling life isn't easy, especially now when education is systematically both crumbling and re-inventing itself and certainly not focused on fulfillment of much more than arbitrary data-bound and budgetary results. These are the wrong measurements. This is not the path to a purposeful education.

These have been a hard three years, and arguably, this one was the hardest. During any time of great change, there are greater fears held amongst us, and we tend to cling to what we know, what's comfortable and what's measurable. Purpose, happiness, confidence – these things are hard to measure, and yet in this world, they are hard to succeed without.

As educators, we are wired to believe. To believe in our students, to believe in our ability to teach them, to believe in their human potential, even when it seems unbelievable to do so. 

The real measure of success in a world this overstimulated and this stressed out is what Zach and Cat carried from SOM and celebrated on a similar night with their graduating class, families, friends and coaches: PRESENCE. 

Being present for each experience, grounded in doing what they love and in the relationships they have nourished from childhood to adulthood, Zach and Cat are living big, successful and most of all, fulfilling lives. At a time when technology is competing for students' attention and everything seems like a fleeting option, finding the thing you love, people who inspire and knowing how to stay present through the hard work is how we earn the celebrations – and the success that we seek. 

To be a part of Cat's and Zach's journeys – and all of our students past, present and future – is a true honor. 

Tonight, we will send another six high school seniors off into the world, and William, Andrew, Harrison, Gabi, Maddy and Emily exemplify the growth our program is now known for. They will share their journeys with you when they give their speeches. As each is now ready to move into their next phase, they are taking with them the knowledge that if they are present, if they follow their passions and if they seek out a purposeful life, that they will have everything they dream of – and deserve.

Thank you for joining us here tonight. It's always the best night of the year!