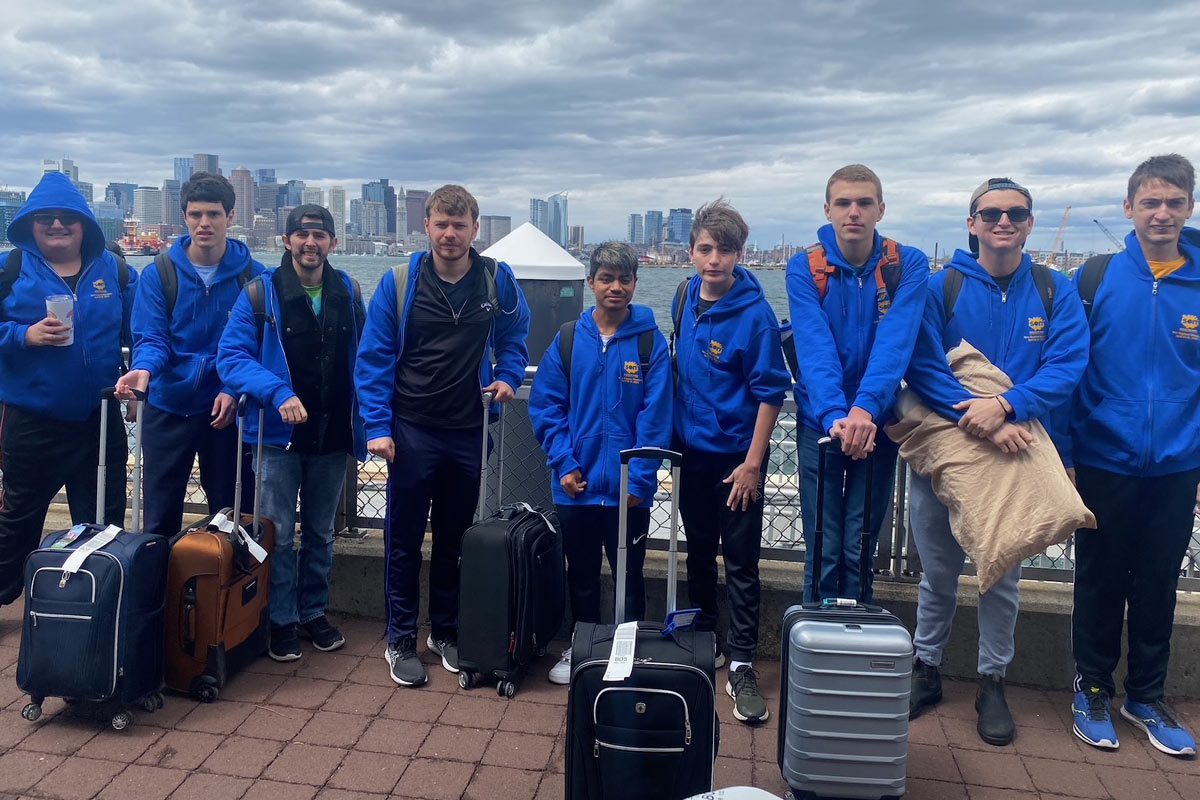 24 Apr

Life is a Marathon; Not a Sprint

I've led somewhere around 70+ trips for tweens and teens in my educational career, but last week's trip with seven neuro-diverse high school and gap year boys from Space of Mind to Boston was absolutely – and by far – the most amazing of them all. Our goal wasn't just to visit Landmark and Berklee Colleges, or to experience Boston's storied history, but to do the real prep for real life: practicing the social, emotional and daily living skills that help us attain our life's purpose.

We arrived the day after my favorite day in Boston: Marathon day. It would have been too much to navigate our group through those crowds, but our trip's theme was, "Life is a Marathon; not a sprint," and the spirit that binds Boston certainly bound us as a group working together towards a really big goal: (not so ironically), INDEPENDENCE.

Three of the boys had never been away from home before without a family member. Six are extremely introverted, and all were unsure of what they'd encounter – with one another and within one's self. What happened in just four days was nothing less than magical.

Yes, we saw the sights, did the Mike's and Modern Pastry taste tests, walked the Freedom Trail, rode a Duck Tour, spent some cash in Newbury Comics, grabbed burgers at Mr. Bartley's, rubbed the shoe in Harvard Yard, took the scenic route to Landmark College through New Hampshire and Vermont, had ice cream before dinner at Kimball Farms, went candlepin bowling, rode the T and took the water taxi in and out from the airport to really take in the beauty and history of the harbor.

More memorably, though, was what happened inside our airbnb and in between and during the activities on our itinerary. The boys realized they were all capable of much more than they or their parents could have imagined. They navigated roommates, shared common space, made breakfasts, cleaned up and calmed down – all together and for most, for the first time outside their families and without emotional overwhelm.

It was important that we were on time all week, and we were. One was sure as of the minute we landed that we would miss our flight home! Another brought a laminated copy of the itinerary. Last minute changes and being late isn't this group's cup of tea. Even the non-morning kids were up and ready for each day. When we realized one student had never been on an escalator, the whole group cheered him on at every try. When one student was homesick, he shared about it at the dinner table, and then two more shared that they were, too. Another, who had been to sleepaway camp, let them know they'd be ok, and it can even be great to be away from home. These were all "introverted friends," as one of the boys nailed it before the trip, but all of a sudden, they were just friends.

On our last night, they hosted a dinner party for our honored guest, Rick Muhr. The boys set the table (with flowers!), cooked the most delicious dinner, and connected with Rick and his inspirational story for life. Rick is a marathon coach, an extreme athlete and a survivor of both a body-shattering bike accident and the kidney cancer that accident accidentally uncovered. He coached 300+ runners in this year's Boston Marathon and will be running in Chicago this fall for the first time since his accident. His message to the boys was simple and pure: live each day with gratitude and without fearing adversity.

Wow, did the boys hear that.

When our 8pm flight home was delayed multiple times, the student who had bet me $20 we'd miss the flight had one of the best one-liners of the trip (and there were many top contenders!) when he let me know that "the flight delay is a scheme from Rick to teach us about adversity." Rick's not that powerful, but his message certainly is.

One day, an entire chapter of my book will be dedicated to just this one trip. It was a watershed moment in my career – and for each of the participants, staff and students. Everyone came home with a clearer purpose, stronger spirit and fuller heart. The boys also came back as true friends, as they had comforted one another and offered feedback with respect when it was needed, and it was accepted with gratitude in return.

These days, we get fewer opportunities to step back and really soak in the beauty of our lives. This week away, we took a simpler look at our daily grind, and though we were sprinting through the days, the whole group agrees that the marathon is really where it's at.