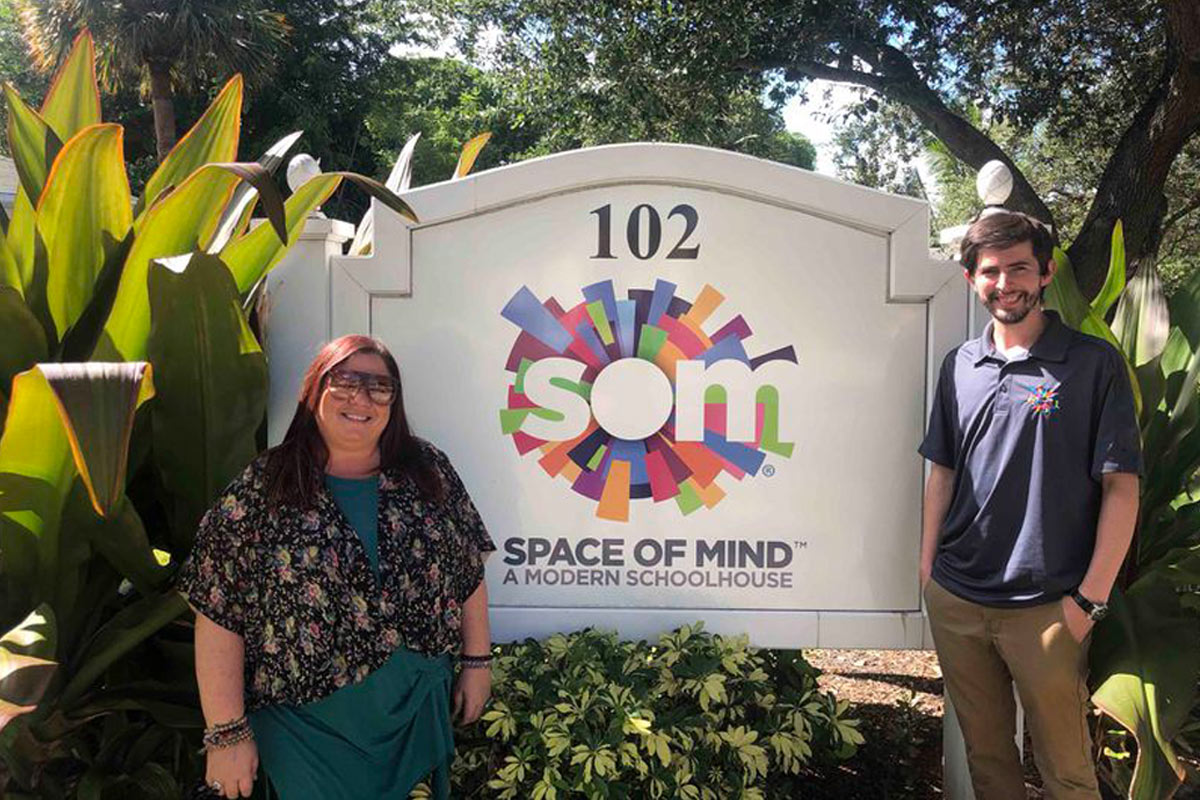 17 Aug

School expands virtual and in-home learning options after requests from pandemic-weary parents

For Tal Argov, working on school projects instead of memorizing material for tests is one of the things the 17-year-old loves about attending Space of Mind in Delray Beach.

Space of Mind is a schoolhouse that recently expanded its campus with a 6,400-square-foot community center building and it also offers virtual learning with a live-taught, customized curriculum or a child's already established curriculum, according to CEO and founder Ali Kaufman.  

It serves children in pre-kindergarten through 12th grade as well as students taking a gap year to learn entrepreneurial skills. This is the first year it's offering an in-home preschool program for 50 students; the campus will be open in the fall for students in kindergarten through 12th grade and gap year students.

"It's all project-based learning and collaborative. The No. 1 problem when parents call is they say 'my kid doesn't care about anything.' We're wildly well-positioned, and homeschooling can be mainstreamed and we can give families a lot of safety and choice," Kaufman said.
Ready to learn more?
Ready to learn more? Here's a short form to introduce yourself and let us know how we can support your child's education this school year. We're excited to lead you into the future of education!
Argov, who lives in Parkland, first starting attending the Delray Beach campus from fifth through eighth grade, left for two years and then came back.
"It's a different way of learning. I was always the odd egg out. I found this school, and it's diverse in how they taught the curriculum. It's family-oriented, more personal with the teachers. It helps me enjoy learning. There's a lot of leeway and flexibility compared to public school," he said.
There's currently room for 80 students on campus, who will socially distance, with a few spots available and an unlimited number of students can enroll online for virtual learning options, Kaufman said.
Space of Mind also offers a variety of private in-home learning.
"We're getting contacted from people around the country and the Delray location is filling up quickly," Kaufman said.
The school also is finalizing the process of working on shared space for homeschool pods, a place for homeschoolers to come and rent a classroom and have shared space.
RELATED: Unhappy with school options, parents team up to form learning pods to educate their kids »
"We can support any family in helping them pick the right choice. We assess and create educational plans, and developed our own social homeschooling curriculum," she said.
Space of Mind has been at the homeschooling forefront for the last 10 years and the last two years it has been working on developing curriculum, Kaufman said.
Because of all the interest she is receiving from families all over due to the pandemic, Kaufman said she's doubling her staff at the schoolhouse and actively hiring teachers, or coaches, as they are called.
Kaufman said "everything" is different about Space of Mind versus the public schools.
"Our whole program is rooted in making kids feel safe, loved and celebrated. We have a college-prep program, with any rigor any learner is ready for. Right now with COVID-19, every student and parent is coming back with some form of PTSD. Even pre-COVID-19, they felt unsafe. We can be super agile. The agility we have with a small program with a 3:1 ratio, we can follow the trends but follow the needs of the individual learner and family," she said.
Argov said attending Space of Mind helped him grow not only educationally but socially as well.
"I learned much more communication skills, more proper manners, social cues and social behavior. Sometimes we're put with different age levels and it's good to interact with different age groups. You can help them out or learn from them or be a mentor."
Space of Mind specializes in children with ADHD and who are on the autism spectrum by teaching through creativity, Kaufman said.
"Reaching different types of learners is all about using creativity. We're a great fit for any kid who learns differently. Our curriculum can bend and meet any student where they are and we can differentiate the approach for different learners and not stigmatize them. We don't group by grade level as much as we group by chemistry and learning style; we want them to love learning," she said.
And differentiating the approach to learning is another concept Argov appreciates as a student.
"The coaches are very knowledgeable in almost every single topic. They answer it differently for each person. I'm hands-on and need to be visual. They're very good at how they can teach different methods on the same concept," he said.
Ready to learn more?
Ready to learn more? Here's a short form to introduce yourself and let us know how we can support your child's education this school year. We're excited to lead you into the future of education!