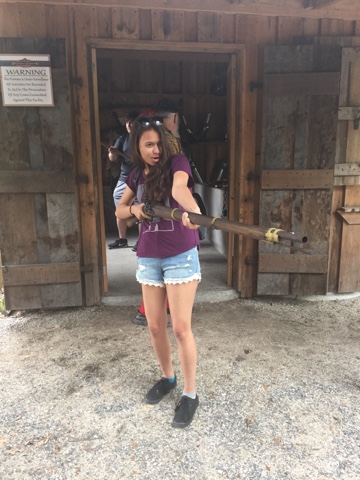 30 Mar

Magical History Tour Day One: St. Augustine
What a day! We hit the road bright and early and arrived in St. Augustine in time for lunch. Our bus driver, Leo, is super accommodating and is already making the trip a pleasure!
We kicked off the afternoon with a two-team walking scavenger hunt of historic St. Augustine. It was a contest between quantity and quality when it came down to choosing the winner, but Jon's and Colleen's team won – they visited more than 15 sites!
We finished the hunt at the Castillo de San Marcos, an unbelievable fort overlooking the water. It was a great spot to relax!
We got a private tour of the Colonial Quarter from our awesome guide, Andy. He gave us some history of the area and then let us experience an actual blacksmith studio and armory, even firing off his pistol!
We got to tour the Pirate Museum next and Neil and Jon were sure to find every clue to win the prize for completing the museum's treasure hunt!
Dinner at Cruiser's Grill hit the spot, and then we made it back to our bus and hit the road again, watching Forest Gump on the way.
Everyone had a blast today – no drama and all smiles! The Book of Grievances did get a few entries, though. We will read them in the morning.
The Traveler of the Day Award went to Allie! She came out of her she'll, was laughing and smiling all day and generally had a great time!
We're spending tonight and tomorrow day in Savannah. The adventure continues…