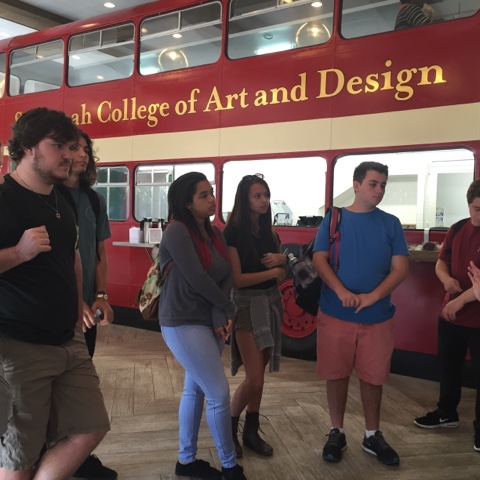 31 Mar

Magical History Tour Day Two: Savannah

We woke up in Savannah to amazing weather! The Clubhouse split off from the high school and hit the Georgia Railroad Museum and got some awesome street food for lunch (hello duck curry for under $10!)

The high schoolers toured the Savannah College of Art & Design (SCAD) and Leo's face washed over with inspiration upon walking in! What an incredible school and an absolutely amazing campus! We walked to get some noodles for lunch and then to City Market for what else? PRALINES!!! The Savannah Candy Kitchen didn't disappoint and Gavin was in heaven!
We all met back up for a Savannah Slow Ride haunted bike tour of the city. Each bike holds up to 15 people so we had to pedal together to get around. A total workout! The high schoolers rocked out to a mix of 80s and hip hop and we put on quite a show for the city!
Then it was goodbye Savannah and since it was Neil's and Faith's birthdays today, we broke up our long bus ride to Williamsburg with an awesome family style Italian dinner in Fayetteville, NC.
1:30am – arrived in Williamsburg, ready to crash out and wake up for an amazing day at Jamestown Settlement in the morning, Williamsburg Colony in the afternoon and Allie's birthday dinner at night!!!
And we were ON TIME for everything for the 2nd day in a row!